The Hardwood Industry's Voice in Washington D.C.
A note from the Director of Strategic Planning – Bob Miller
It was about 5 years ago when I was given the opportunity to be a board member on the Hardwood Federation (HF). The HF is a coalition of hardwood industry associations, whose association members visit Washington D.C. each year, to meet with their U.S. Senators and U.S. House of Representatives to advocate for policy that directly impacts the hardwood industry. The HF is a bipartisan association. It supports all political parties and has a political action committee (PAC) that is funded by the members of the coalition of associations. These PAC monies are used to help fund campaigns to keep our loyal advocates in office.
The hardwood industry is dependent on federal legislation. We need to make sure all proposed legislation is good for our environment and for our industry. This proposed legislation could affect forest management in our private and public forestlands where we are focused on producing better plant and wildlife habitat while reducing the chance of wildfires by removing excess forest fuel loads, environmental regulations when we utilize sawdust as a substitute fuel source to fossil fuels when drying our lumber and heating our buildings in the winter months, or when we are transporting our products on the state highway and interstate highway road systems and when those regulations differ between the two road systems. Regardless, we must have a presence in Washington D.C., and I am privileged to be one of many in our industry given the opportunity to be an advocate for our industry associations, Frank Miller Lumber Company, and for the hardwood industry.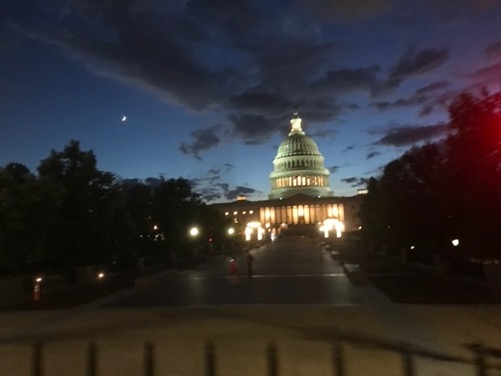 The hardwood industry's voice would be ineffective and powerless in D.C. if we did not have advocates for our industry, our U.S. Senators and U.S. House of Representatives. If it were not for these elected officials and their willingness to learn more about forest management and about our industry, the hardwood industry and our forest ecosystems would not be what they are today. These Congressional leaders are the ones who carry our message on Capitol Hill. As previously mentioned, we want to make sure these men and women remain in office, and the perfect vessel to help ensure that is with the HF PAC. Last year I was given the opportunity to serve as the HF PAC Chair. I have enjoyed that opportunity!