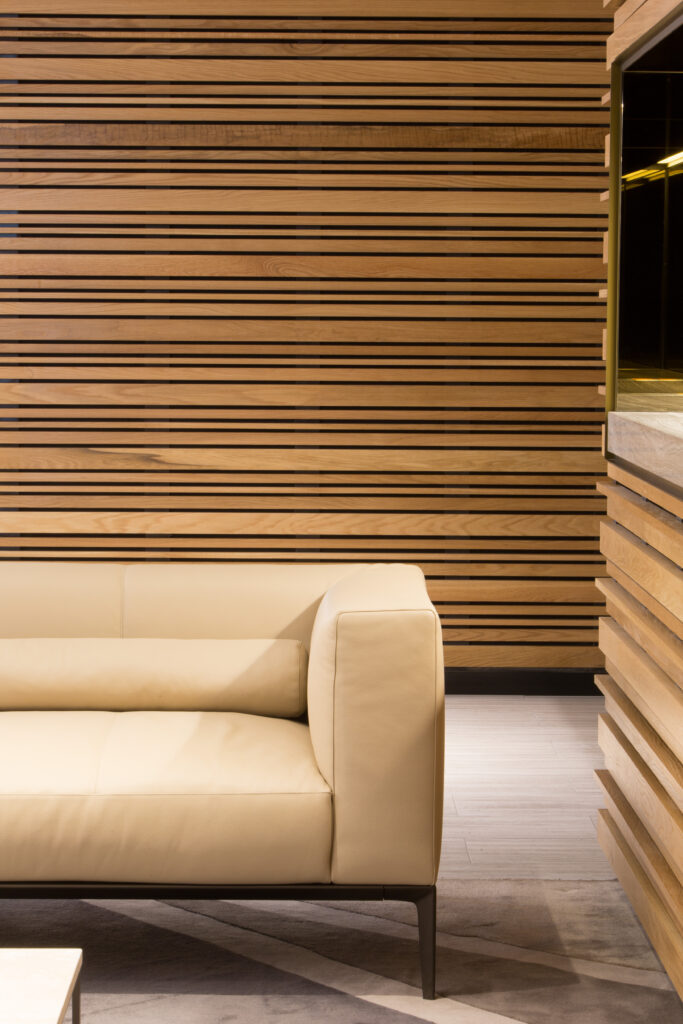 UNION CITY, Ind., November 10, 2015 — Criswell Davis, architectural marketing manager for Frank Miller Lumber, continuing education provider for the American Institute of Architects, university lecturer and international speaker on behalf of sustainable American hardwoods in design, will travel to Sydney, Australia, visiting the jobsite of Barangaroo South, a $6 billion transformation of the central business district in Darling Harbour. The project is Sydney's largest urban renewal project since the 2000 Olympics, and destined to be as iconic a representation of Sydney as is the Opera House.
Joining Davis on the trip will be Mark Miller, export sales manager for Frank Miller Lumber, who manages the Australian market. Frank Miller Lumber's FSC-certified quartersawn white oak was specified by developers Lend Lease for the interior fixtures, flooring and walls in the hallways and elevator lobbies of the three office towers. Frank Miller Lumber's Australian distributor, Britton Timbers, has been actively involved in the project from the beginning with various species of hardwoods along with quartersawn American white oak. Britton Timbers is the largest importer of American hardwoods in Australia.
Miller and Davis will tour Britton Timbers' Sydney and Melbourne distribution centers. Davis will offer the Britton Timbers sales staff in both locations a presentation on sustainable American hardwoods and Frank Miller Lumber's quartersawing process. From Melbourne, the representatives of Frank Miller Lumber will travel to Tasmania to visit Britton Timbers' blackwood sawmills with Glenn Britton, company chairman. The trip will provide Miller and Davis a chance to learn more about Australian timbers while exploring complementary application opportunities for Frank Miller Lumber's premium quartersawn American hardwoods in Australia.
"This is my eighth trip to Australia and each time I am reminded of what a beautiful country it is and how welcoming Australians are," said Davis. "All of us at Frank Miller Lumber are proud to be a part of Barangaroo South and of our long-standing relationship with Britton Timbers."
Frank Miller Lumber and Britton Timbers are family-owned and world-renowned sawmill operations, both more than a century old. Earlier in 2015, Britton Timber representatives Glenn Britton and Dom McNeil, director, visited Frank Miller Lumber in Union City.
Britton Timbers (www.brittontimbers.com.au), established in 1907, is a diversified Australian company with interests in timber harvesting, sawmilling, international timber import and export, and distribution. The Britton name has been synonymous with quality timber and outstanding customer service for more than 100 years.
Frank Miller Lumber (www.frankmiller.com), established in 1903 in Union City, Indiana, produces premium quartersawn and plainsawn hardwoods for manufacturers of fine furniture, cabinets, architectural millwork and flooring. Frank Miller Lumber's quartersawn products are used in high-end commercial and residential construction around the world.